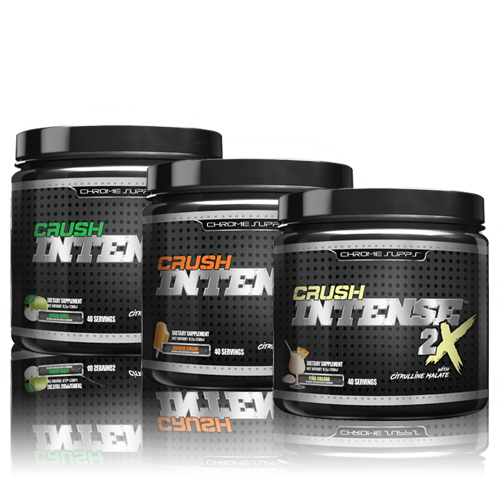 Chrome Crush Intense 2X
DIRECTIONS: As a dietary supplement for adults, take 1 serving in 8-10 oz of cold water, 30 minutes before activity, start use with only 1 serving to assess tolerance and response then gradually increase dosage if ever needed, never consume more than 2 serving in a 24-hour period. Do Not take within 4 Hour of bedtime, drink at least ten 8 oz. Glasses of water per day while using this product. Read warnings and only use as directed.
WARNING: Do not take Crush Intense in excess of its recommended dosage.Crush Intense is intended only for healthy adults over 21. Consult a Licensed Healthcare practitioner before use. Do Not use if you are currently pregnant or nursing. Have had a family history of heart disease, high blood pressure, stroke or any other disease or using an MAOI prescription drug or over the counter drug. If you are a competitive athlete subject to drug testing, consult with your sanctioning body prior to use to ensure compliance, discontinue use immediatly if you experience any adverse reaction.
These statements have not been evaluated by the Food and Drug Administration. This product is not designed to treat, diagnose, cure, or prevent any disease.Do Not take this product with any other forms of caffeine such as tea, soda, coffee, etc.
Contact Us to Purchase Today